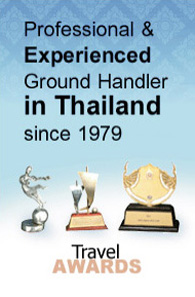 DESTINATIONS
CONTACT
+662 640 1440
info@nstravel.com
LINKS
Subscribe for e-newsletter
SILK, VILLAGERS AND KHMER HERITAGE OF THAILAND
Code :NS.TH.MT-BKK11
Type :COMMUNITY BASED TOURISM KHMER THAILAND
Price :From 8217 baht / person
Why book with NS Travel?

NS.TRAVEL is one among the few local operators, qualified for sustainable tourism, agro tourism and community based tourism. We are recognized and accredited for this very specific tourism sector.
SILK, VILLAGERS AND KHMER HERITAGE OF THAILAND
Unique experience which will make you discover a region of Thailand where western tourists do not usually venture. This program is purely cultural and focused on the local handicraft of the very rich region of Isan, but also on Khmer heritage, as this village is located in a region bordering Cambodia.
You will be completely integrated to your host family, who will provide you with the accommodation and meals, and you will discover the activities of the village, which are mainly silk-weaving. But you will also visit the landmarks of the region, including the splendid Khmer temple 'Prasart Hin Phanom Rung', which is a true gem of architecture in the province of Buriram.
The accommodation is basic and the meals typically local. The transportation from Bangkok is operated by public bus, but this experience will live on in your memories for a very long time. You will be able to go biking around the local countryside, and by staying in the village you will participate in the improvement of the villagers' daily life.
For a detailed description (PDF) of the program, please click on the More Info button above!
Program
Day 1 Bangkok - Buriram
Meals: - / - / D
Pick-up by your English speaking guide at the lobby of your hotel in downtown Bangkok – Transfer by public transportation to Northern Bangkok bus terminal – Journey in a/c bus equipped with toilet to Buriram – Arrival in Buriram by early afternoon
Lunch served in a local restaurant
Transfer by vehicle to the village – Welcome in the village by part of the villagers – First discovery of the village and your host family
Dinner served by your host family
Overnight at your host family house – Mattress on the floor, blanket and mosquito net
Day 2 Buriram
Meals: B / L / D
Breakfast served by your host family
Morning:
Pick-up by your guide at your host family house and thorough discovery of the village – Explanations of the economic system, and the village activities
Lunch served in the village
Afternoon:
Visit the Khmer sanctuary dating from the 10 or 11th century, called 'Prasart Muang Tam'. It has a very elegant architecture, thanks to ceremonial ponds giving a particular aspect to the site. This temple is located at walking distance from the village – Rest of the day is dedicated to the process of silk making – Ox cart ride in the countryside
Dinner served by your host family
Overnight at your host family house – Mattress on the floor, blanket and mosquito net
Day 3 Buriram
Meals: B / L / D
Pick-up by your guide at your host family house and discovery of the local market and its very particular delicacies, such as ant eggs… - Biking ride to the local monastery (food offering to the monks) – Back to your house
Breakfast served by your host family
Morning:
Discover the region – an old quarry which supplied the building of Khmer temples, old brick kilns and another Khmer sanctuary, the Prasart Nong Hong
Lunch served at Lam Nang Long dam
Afternoon:
Visit the very beautiful Khmer sanctuary of Prasart Phanom Rung and pass by the Buddhist temple of the village, where it is a tradition for visitors to pass by for a short time
Dinner shared in the village, with a demonstration of traditional dances
Overnight at your host family house – Mattress on the floor, blanket and mosquito net
Day 4 Buriram - Bangkok
Meals: B / - / -
Breakfast served by your host family
Morning:
Pick-up by your guide at your host family house and transfer back to Buriram bus terminal - Journey in a/c bus equipped with toilet to Bangkok – Arrival at Northern Bangkok bus terminal – Transfer by public transportation to your hotel in downtown Bangkok
CODE

PROGRAM / PERIOD

PRICES P/PERS. (BAHT) (1/NOV/16 - 31/OCT/17)

JOINING

1PAX

2PAX

3PAX

4PAX

5PAX

6PAX

NS.TH.MT-BKK11

01/NOV - 31/OCT

N/A

23472

13946

10550

10180

8896

8217

INCLUDED

* Service of an English speaking guide during the whole program
* Public transportation from departure point in Bangkok to the village and back
* 3 nights accommodation (home stay)
* All meals as per program
* Assistance of local Khmer speaking guide
* Local transportation & bikes
* All entrance fees to historical sites
* All local taxes and VAT

EXCLUDED
* Personal expenses
* Drinks during meals
* Meals not included in the program
* Tips to the guide

REMARKS
* rates for private program (blue columns) are given per person (from 1 to 6) traveling together
* rates for joining-up program (green column) are given for person joining-up existing group
* n/a = not available
* o/r = on request