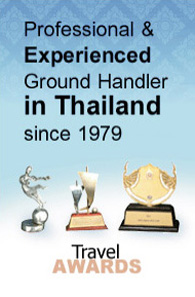 DESTINATIONS
CONTACT
+662 640 1440
info@nstravel.com
LINKS
Subscribe for e-newsletter
BIKING AFTER THE PAST OF SIAM
Code :NS.TH.MT-BKK04
Type :BANGKOK TO AYUTTHAYA BIKING TOUR THAILAND
Price :From 5954 baht / person
Why book with NS Travel?

NS.TRAVEL is one among the few local operators, qualified for sustainable tourism, agro tourism and community based tourism. We are recognized and accredited for this very specific tourism sector.
BIKING AFTER THE PAST OF SIAM
Long time ago, Ayutthaya was a glorious city, wealthy and powerful, the capital of the Kingdom of Siam. During its golden age (17th century), the city had diplomatic and commercial relations with Japan, France, Portugal, China, etc…
Founded in the 14th century by King Uthong, Ayutthaya quickly became the most powerful city in Asia. Later, during the 18th century, it controlled a territory far bigger than today's Thailand. At the end of the 18th century, the city was attacked and sacked by the Burmese. The court and the survivors left their Kingdom's old capital to found Bangkok.
With this program, you will visit the main ruins of the ancient city of Ayutthaya by bike, but also the bucolic countryside of the region and the Summer Royal Residence of Bang Pa In.
For a detailed description (PDF) of the program, please click on the More Info button above!


Program
Day 1 Bangkok - Ayutthaya
Meals: - / - / -
Pick-up by your English speaking guide at the lobby of your hotel in downtown Bangkok – Transfer by public transportation to the city of Ayutthaya – Luggage drop-off at your hotel and check-in
Lunch at leisure and not included
Afternoon:
Continue by local public transportation to the departure place of the afternoon biking tour – Participate in a joining-up biking tour with English speaking guide, around the main ruins of the old capital of Siam, 'Ayutthaya' (classified as UNESCO World Heritage) – Participants keep the bike until the following day
Dinner at leisure and not included
Overnight at Classic Kameo Ayutthaya – Deluxe Room
Day 2 Ayutthaya
Meals: B / L / -
Breakfast served in your hotel
Departure by bike from your hotel to the departure place of the day biking tour - Participate in a joining-up biking tour with English speaking guide, around the local countryside, to the Summer Royal Residence
Lunch served in a local restaurant
Visit the Residence (in Bang Pa In) – Back to Ayutthaya by local boat – Arrival at the departure place by late afternoon – Transfer by local tuk-tuk to your hotel – Luggage pick-up – Transfer by local tuk-tuk to the train station (A transfer back to Bangkok is possible – Optional organization on request)
CODE

PROGRAM / PERIOD

PRICES P/PERS. (BAHT) (1/NOV/16 - 31/OCT/17)

JOINING

1PAX

2PAX

3PAX

4PAX

5PAX

6PAX

NS.TH.MT-BKK04

01/NOV - 31/OCT

N/A

13202

6881

6274

6170

5948

5933

INCLUDED

* Escorted departure from Hotel de Bangkok to public minivan departure point
* Transfer to Ayutthaya by public minivan with Englsih speaking escort
* Biking tours as per program (joining-up)
* Use of good bike (Giant or similar and helmet)

* English speaking guide during biking tours
* Meals as per program
* 1 night in Classic Kameo Hotel (Deluxe room including breakfast)
* All entrance fees to visited sites
* Insurance, all taxes, service and vat

EXCLUDED

* Beverages during the meals
* Personal expenses
* Tips to guides and luggage boys
* Transportation to your next destination at the end of the program

REMARKS

* No discount is given to kids for this program

* rates for private program (blue columns) are given per person (from 1 to 6) traveling together

* rates for joining-up program (green column) are given for person joining-up existing group

* n/a = not available

* o/r = on request