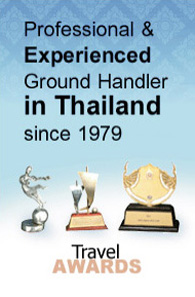 DESTINATIONS
CONTACT
+662 640 1440
info@nstravel.com
LINKS
Subscribe for e-newsletter
THE LEGEND CHIANG-RAI
The Legend stands proudly like a rich patrician house, built on the banks of the 'Kok' River in downtown Chiang-Rai. Red Bricks, white stuccos and noble woods are the main architectural elements.
Several pavilions shelter the rooms and a partially open air main house, hosts the lobby and the restaurant.
Guests can enjoy here the Northern 'art de vivre' in a quiet and well groomed garden. The Legend is definitely a 'Maison Bourgeoise' for a smooth discovering of the Golden Triangle.
All the rooms are spacious and airy, from the superior studio (52 Sqm) to the pool villa (165 Sqm), they are all superbly equipped: Air conditioning, very nice shower room, separated washbowl corner, satellite television, DVD, CD player, fully stocked mini bar, refrigerator, mini safe, sofa corner, outdoor terrace, etc.
The public areas feature a nice swimming pool, a restaurant with large terrace, a spa, etc.
Definitely the best hotel of Chiang-Rai, 'The Legend' welcomes amateurs of comfort and 'art de vivre' fond of staying close to the typical heart of Chiang-Rai.