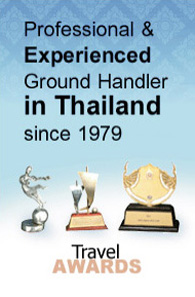 DESTINATIONS
CONTACT
+662 640 1440
info@nstravel.com
LINKS
Subscribe for e-newsletter
Recommended Hua Hin Hotels - THE ROCK HUA HIN RESORT
This elegant 'luxury boutique beach hotel in Hua Hin ' with very modern and refined design is located on the Takiab beach, few kilometers southwards from the little historical centre of HuaHin.
A bit more than 20 rooms for an intimate hotel, welcoming Thai upper class couples or Western and Japanese little boutique hotels amateurs. The smallest rooms are 52 Sqm, with very large terrazzo bathrooms integrated in the very bedroom.
All rooms are super well equipped: Air conditioning, satellite television, DVD, CD player, refrigerator, telephone, rest corner, coffee or tea maker, most of the rooms have a little balcony with side view and the top class room features a private indoor little pool.
Two restaurants (one front side and one at the swimming pool side) serve either western or Thai food. The beach terrace is a nice and convivial open air complex featuring a marble swimming pool, a sundeck with sun beds, a cocktail bar, a terrace restaurant and the beach access.
The Rock Hua Hin Resort is an intimate contemporaneous house, ideal for a couple of lazy days close to Bangkok.