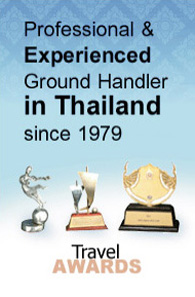 DESTINATIONS
CONTACT
+662 640 1440
info@nstravel.com
LINKS
Subscribe for e-newsletter
ROYAL PRINCESS (LARN LUANG)
Located in historical Bangkok, on the Ratanakosin island, at walking distance from the famous 'Golden Mount', this hotel is a perfect place for those reluctant to accommodate in tourist areas.
The Royal Princess is surrounded by a big garden providing quietness and seclusion. It is pleasant, very well kept and features 168 rooms, several restaurants (among them, a beautiful Japanese one, a super comfortable classical Chinese one and a very good Italian one).
It has a little fitness centre, a business centre, a little shops gallery, a coffee shop and a beautiful outdoor swimming pool with sun deck.
All the rooms are big and shiny, nicely furnished and well equipped. The superior ones have a rather classical style still using the original furniture, a nice bathroom, satellite television, telephone, fully stocked mini bar, refrigerator, coffee or tea maker, safe, balcony, etc.
The deluxe rooms are very large, have the same amenities as in the superiors, but guests can chose for classical or modern furniture.
Royal Princess is definitely, one of the few hotels in historical part of Bangkok, giving the expected service to amateurs of tradition, comfort and good service.