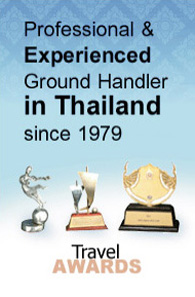 DESTINATIONS
CONTACT
+662 640 1440
info@nstravel.com
LINKS
Subscribe for e-newsletter
LAMPANG RIVER LODGE
Between Sukhothai and Chiangmai, the little city of Lampang is mainly known by architecture and Art amateurs, for the unique old Wat Phrathat Lampang Luang is nestled in this province. This religious northern edifice is a superb fourteen century testimony of teak wood architecture.
'Lampang River Lodge' is a perfect place giving one the chance to discover this superb masterpiece of Thai heritage. It also gives guests the possibility to visit the famous 'Elephants Conservatory'. Both attractions are unfortunately aside the beaten ways and therefore not so often visited.
The hotel is nestled in a big park embellished with plenty of huge and majestic trees around a little lake. The complex hosts 2 restaurants, several pavilions sheltering the rooms spread all over the park, a little massage parlor and a swimming pool.
The rooms are divided in 3 categories: Standards, Superiors or Deluxe. The deluxe rooms feature air conditioning, bathroom, television, telephone, refrigerator and a balcony facing the lake. The superior rooms have the same facilities but no refrigerator and the balcony faces the garden. The standard have air conditioning and private bathroom.
The whole realm is a fantastic green retreat on the roadbetween the North and the Central plain.