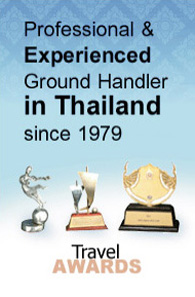 DESTINATIONS
CONTACT
+662 640 1440
info@nstravel.com
LINKS
Subscribe for e-newsletter
KIRIMAYA GOLF RESORT & SPA
Located next to the oldest national park of Thailand 'KHAO YAI' which was awarded by UNESCO for its unique climate, exotic nature, flora and fauna, KIRIMAYA is an exceptional high-end 5 stars 'boutique' resort.
At only 2 hours drive from Bangkok, KIRIMAYA is a distinguished hideaway nestled in a huge and superb realm edging the national park. It provides a perfectly green environment, the challenge of nature exploration (Khao Yai national park hosts wild animals including tigers), elegant architecture, decoration and top class facilities are ideally appropriated to the most demanding guests.
The huge dominium is divided in two different realms: Resort and golf. The golf (designed by Jack Nicklaus) features a superb court frequented by the jet set society, a top class club house and a private village hosting a main house hosting a lobby, a business centre, a restaurant/bar, a swimming pool and top luxury pool villas modernly designed and equipped.
The resort features a lobby, a restaurant/bar, a spa, a superb swimming pool the superbly equipped rooms or suites and the tents, which are a unique concept in South East Asia.
Tents at KIRIMAYA go behind imagination: 180 sqm private space modernly equipped and exclusively decorated, featuring private Jacuzzi, living area, private terrace, etc… They are a KIRIMAYA signature for high-end honeymooners or amateurs of luxury and originality.
Rooms feature elegant decoration with natural materials and modern equipment. Besides all 5 stars luxury facilities, they all feature a private furnished balcony with daybed and a superb panorama on the whole realm.
KIRIMAYA is one of the very few exceptional hotels in Thailand. A stay at KIRIMAYA is a stay in a sanctuary of relaxation in a natural and preserved evergreen paradise.