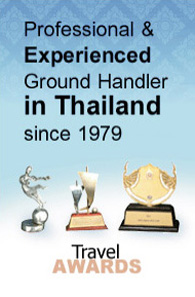 DESTINATIONS
CONTACT
+662 640 1440
info@nstravel.com
LINKS
Subscribe for e-newsletter
A LUXURY CRUISE ON THE CHAO PHRAYA RIVER
Code :NS.TH.MT-BKK06
Type :RIVER CRUISE BANGKOK TO AYUTTHAYA THAILAND
Price :From baht / person
Why book with NS Travel?

We are based in Bangkok and a specialist for unique Thailand Holidays, including Thailand River Cruises.

Join us on this luxurious trip and check for punctual discounts!
A LUXURY CRUISE ON THE CHAO PHRAYA RIVER
This beautiful 3 day Cruise takes you from Bangkok to Ayutthaya with full program in between.
Ayutthaya was once upon time a majestic, rich and mighty city. During its 'Golden Age' (Seventeen Century), some big European or Asian nations like Japan, China, Portugal or France had close relationship with Siam. King of France, 'Louis XIV' sent permanent envoys, who settled a French counter down in Ayutthaya whereas Siamese ambassadors were sent to Versailles.
An attack of Burmese army by end of the Eighteen century sounds the doomsday of Ayutthaya. After the city was completely sacked, the court migrated southwards and settled down definitely in Bangkok, where they founded their new capital.
Ayutthaya was listed as World Heritage by UNESCO en 1991. The ruins reflect well the glorious past of the city and a full day is necessary to visit the main temples. A complete visit of the ruins including a stop in Bang Pa In takes certainly 2 days.
For a detailed description (PDF) of the program, please click on the More Info button above!
Program
DAY 1
Meals: - / L / High Tea / D
- Morning (10am) Departure of the cruise. Whilst sailing the river up to Ayutthaya, you will enjoy superb Bangkok historical highlights on both sides of the river
- Arrival at the Temple of Dawn – Short stop for a visit to this impressive monument dating from ancient Ayutthaya period
- Arrival at the Royal Barges Museum – Visit this amazing collection of richly decorated boats.
- Lunch underway while sailing smoothly upriver. You will pass by the Kret Island where a Mon
community settled down and commonly work the local clay in local pottery homemade factories
- High tea is served onboard whilst sailing up
- Stop at Wat Pathum Khong Ka where people use to gain merits according to Thai Buddhist tradition, by feeding fishes
- Stop at the Wat Bang Na and see the body naturally mummified of the 4th abbot of this temple. It is a real curiosity without explanation
- Aperitifs and canapés will be served on the deck before a delicious dinner will be prepared and served on board as well. The boat moors for the night
- Evening with the stars in the freshness of the quiet countryside
DAY 2
Meals: B / L / High Tea / D
- Early wake-up call (optional) to attend the alms giving to Buddhists monks in Wat Bang Na. Exceptional opportunity to experience a very Thai tradition
- Start sailing upriver towards Ayutthaya
- Delicious breakfast is served on the deck – Morning at leisure relaxing on reclining chair, admiring the countryside
- An Italian luncheon is served (pasta and salads)
- Arrival in Ayutthaya. See the very impressive Wat Phanan Choeng which shelters the oldest Buddha image of the country dating from 1344. This image is particularly worshiped by the Chinese community – A limousine will be waiting for you at the temple to start discovering the UNESCO world heritage site. The city was founded in 1350. You will be escorted by an expert guide and will discover the main historical highlights of the old city
- Leave Ayutthaya in late afternoon by limousine and go to Bang Pa In
- Relax and freshen in your private stateroom before being served aperitif and canapés on the deck
- A delicious Ayutthaya inspired dinner is served on the deck
- Evening with the stars in the freshness of the quiet countryside
DAY 3
Meals: B / L / High Tea
- A delicious breakfast is served on the deck
- Discover the Wat Nivat which was built in 1878 under the king Rama V. Its style is neo gothic and the main chapel is a real neo gothic church hosting Buddha images instead of Jesus representation. This compound is one of the most distinctive places existing in Thailand
- Visit the summer residence of Bang Pa In. This compound originally dating from Ayutthaya period was abandoned after the sack of the old capital. King Rama V made the site revive and add numerous new pavilions in Chinese, Thai or European styles
- Get underway to the Royal folk craft center of Bang Sai
- After the visit of this very instructive center placed under the patronage of Her Majesty the Queen, a light Thai luncheon will be served onboard, whilst sailing down back to Bangkok
- Light tea served onboard
- Early evening (around 18h30) Arrival at the pier of Marriott – End of the cruise
CODE

PROGRAM / PERIOD

PRICES P/PERS. (BATH) ( 1/11/2015 - 31/10/2016 )

JOINING

1PAX

2PAX

3PAX

4PAX

5PAX

6PAX

NS.TH.MT-BKK06B

01/NOV TO 31/MAR

N/A

O/R

O/R

N/A

O/R

N/A

O/R

NS.TH.MT-BKK06A

01/APR TO 31/OCT

N/A

O/R

O/R

N/A

O/R

N/A

O/R

INCLUDED

* Cruise as per program
* Accommodation and meals as per program
* Assistance onboard of English speaking staff
* All visits organized by limousine and escroted by English speaking licensed guide
* All entrance fees to visited sites
* All local taxes, service and vat

EXCLUDED

* R/T transfer to and from the departure point
* Beverages during the meals
* Meals not included in the program
* Personal expenses
* Tips to luggage boys, staff onboard and guide

REMARKS

* no discount is given to kids for this program (rather designed for couples and honeymooners)

* rates for private program (blue columns) are given per person (from 1 to 6) traveling together

* rates for joining-up program (green column) are given for person joining-up existing group

* n/a = not available

* o/r = on request