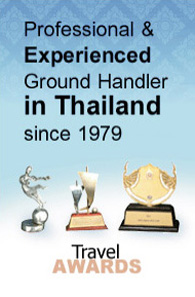 DESTINATIONS
CONTACT
+662 640 1440
info@nstravel.com
LINKS
Subscribe for e-newsletter
THE CHEDI
Superb hotel member of the famous group "Leading Small Hotels of the World", ideally located in the heart of Chiangmai, on the very banks of the River Ping, at a stride from the night bazaar.
This hotel designed by a brilliant architect is a model of lightness and elegance. From the street side, one only sees an anonymous and ordinary "blockhaus" front, whereas the whole beauty of the hotel is subtly hidden behind this concrete decoy.
Alike Morrocan "Riad", one discovers the real beauty of the place after entering the hotel. Once in the garden, one discovers the nice achievement of the architect in a contrasting work featuring nature and modernity. The very well groomed garden and the contemporaneous swimming pool follow the same concept.
The ZEN harmony of the garden side is only disrupted by an old house standing in the middle of it. This colonial pavilion (which was once the consulate of Britain) was admirably restored and was reassigned as a superb restaurant.
All rooms are nicely and soberly decorated, mainly with tropical wood and modern furniture.
They all feature: Air conditioning, nice complete bathroom, satellite flat screen television, WIFI internet access, refrigerator, fully stocked mini bar, hairdryer, safe, tea or coffee maker, private balcony, etc.
Chedi Chiangmai is a very elegant house giving the privacy of a luxury oasis in the very heart of Chiangmai.