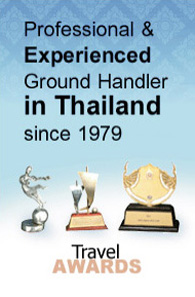 DESTINATIONS
CONTACT
+662 640 1440
info@nstravel.com
LINKS
Subscribe for e-newsletter
PUTAHRACSA
The history of this unique property begun with a lovely lady who was courtier at the court of King Rama VI… She gave the name of a gracious local flower to a land she purchased in the Hua-Hin residential area and this name has remained through decades up to now.
Putahracsa Hua-Hin has inherited all the grace of the flower and the nobility of the owner, Lady Ying Supatra… Here everything is harmony, good taste and refinement. The Putahracsa is located in the residential area of Hua-Hin, between the prestigious Royal Residence and the local 'Fisherman wharf' and its pleasant seafood restaurants.
The elegant property is divided into two wings. The first one, hosting the basic category 'Silksand rooms' and 'Sansky villas', has no direct to the beach but is a superb realm nestled in a beautiful garden featuring a swimming pool, a restaurant and a spa… Only 80 meters separate this wing from the beach… The other wing, sheltering the superb villas is edging the beach. A small quiet local street separates both wings.
The atmosphere of Putahracsa radiates blissfulness and serenity thanks to a very clever architecture, highlighting quality materials, pure lines and discrete colors. All the rooms, being Silksand or La Canna Beachfront villa, are soberly decorated, elegantly furnished but surprisingly zen and welcoming at the time. They all feature: Air conditioning, bathroom with separated shower and bathtub, LCD screen TV, DVD player and music player system, IDD phone, free wireless Internet access, safe, coffee or tee making facilities, refrigerator, mini bar, outdoor terrace, etc…
The villas feature the same facilities with additional private pool (up to 13.5m long) and/or Jacuzzi, larger outdoor furnished terrace, additional installations (I-Pod, wine cellar, expresso/cappuccino machine, etc), and a personal villa host at your service.
The 2 restaurants serve a delicious cuisine, light, tasty and carefully served by a talented chef who can admirably prepare fishes and seafood. The resort counts a nice hushed spa, a welcoming lounge library and has smiling and welcoming staff.
Putahracsa is one among the very few top class properties of Hua-Hin. Here no big international brand name, no show-off, no hyped up resort. Here, it goes over quality and discretion…We don't speak about a property for high-end mass tourists but about a unique property… A small and refined house for few well traveled connoisseurs.